Verdict for New York construction worker is one of the largest in the state
New York, NY (PRWEB) May 3, 2010 -- David Perecman, New York construction accident lawyer, who won another construction accident case with a verdict over $9 million, was, for the third time honored with the distintinction of winning one of the top verdicts in New York State in a given year. (Case # - No. 13755/06)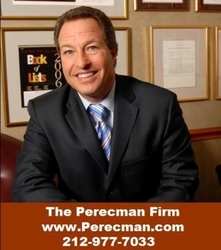 In 2006, Ryszard Lomotowski, was working at a construction site located in the High Bridge section of the Bronx when a steel reinforcement bar snapped. He fell 20-25 feet landing on his feet causing severe injuries to his legs.
"Mr. Lomotowski's injuries could have been prevented if the building owner took the necessary steps to protect the workers and adhere to New York State labor laws. Being that the building floor's edge was not protected, all of the workers were exposed and thankfully nobody died on that construction site," said David Perecman, New York construction injury lawyer. "My client incurred over $150,000 of medical costs and still has to undergo other treatment and will need care that will cost well into the millions. I fought hard because I know what he will face with future medical costs and the pain and suffering of rehabilitation."
For the New York construction accident lawyer, this is the third time he has been noted for receiving one of the highest verdicts in the state of New York. The New York Law Journal also noted his 2004 verdict and settlement for $10 million and 2005 Verdict over $15 million* to be among the best in New York in those years.
David Perecman and The Perecman Firm, PLLC:
For the past 30 years, the New York personal injury lawyers, auto accident, construction accident, and medical malpractice lawyers at The Perecman Firm, PLLC have championed all types of cases for personal injury accidents. David Perecman, founder of the Firm, is a Board Director and the past Secretary and Treasurer of the New York State Trial Lawyers Association (NYSTLA) and a chair of its Labor Law Committee. Mr. Perecman's achievements have brought him recognition as an Honoree in the National Law Journal's Hall of Fame, in New York Magazine's "The Best Lawyers in America" and The New York Times Magazine "New York Super Lawyers, Metro Edition" for the years 2007-2010.
The Firm has recovered millions of dollars for its clients. Among them, a $5.35 million dollar verdict** for an automobile accident, and a $40 million dollar structured settlement for medical malpractice.
*later settled while on appeal for $7.940 million
** later settled for $3.5 million
"Lawyer Advertising"
"Prior results do not guarantee a similar outcome."
See Also:
[Via Legal / Law]