HR industry thought leaders to offer strategies for talent development and explore the decision science of workforce analytics
Irving, Texas (PRWEB) April 16, 2010 -- Aquire, a global leader in workforce planning and analytics solutions, will bring sought-after Human Resources industry speakers Marc Effron, president at The Talent Management Group, and Al Adamsen, founder of People-Centered Strategies, to deliver keynote speeches at its fifth annual user conference April 25-27 in Fort Worth, TX. Effron will provide the HR professionals in attendance with fact-based inspiration and practical tools for increasing their effectiveness in talent development during his interactive presentation. Adamsen will differentiate between workforce planning and analytics and discuss how analytics support the development of talent management strategies.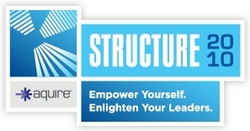 "We are so pleased to offer our conference attendees the insights and expertise of these two industry leaders," said Lois Melbourne, president and co-founder of Aquire. "Our customers will come away with the knowledge and practical strategies to approach their talent management challenges."
As a talent management leader, Effron has worked for, and consulted with, some of the world's largest and most successful companies including American Express, Bank of America, Chevron, and Philips Electronics. He was recently recognized as one of the Top 100 Influencers in HR. In 2007, Effron founded the New Talent Management Network, a non-profit networking and research organization that is now the world's largest talent management organization with more than 1,600 members. His latest book, One Page Talent Management: Eliminating Complexity, Adding Value, written with co-author Miriam Ort, demonstrates a simplicity-based approach to building leaders, emphasizing transparency and managerial accountability.
Renowned management consultant and speaker Al Adamsen has created and implemented innovative ways of aligning HR strategies to the economics of a business and testing the relationships with predictive models. He has worked with leading companies such as Charles Schwab, Ernst & Young, and Gap Inc. Adamsen founded People-Centered Strategies to fill the critical, yet under-developed niche of integrating and analyzing data from the full employee life cycle. In doing so he and his collaborators help leaders successfully meet the ever-increasing challenges associated with attracting, developing, and nurturing key talent.
This year's conference, themed Structure 2010: Empower Yourself. Enlighten Your Leaders., is a must attend event for Aquire customers looking to be at the forefront of workforce planning and analytics. For more information or to register for the 2010 Aquire User Conference visit www.aquire.com/conference.
About Aquire
Aquire is a leading provider of workforce planning and analytics solutions. From organizational charting and analytics to workforce planning, talent visualization, succession planning, data integrity, and more, Aquire offers easy-to-use solutions that increase information visibility, expedite decision making and streamline HR initiatives. American Airlines, Barclays Bank PLC, Fiat, Braun Gillette, Colgate-Palmolive, Nestle UK, Shell Oil, Verizon, and Mercedes-Benz are just a few of the more than 2,700 organizations in 125 countries that rely on Aquire solutions to manage data for 10 million working professionals worldwide. Visit us today at www.aquire.com or for the latest in workforce management opinions and trends blog.aquire.com.
Media Contact:
Meghan Welborn
PAN Communications
978-474-1900
aquire(at)pancomm(dot)com
###

See Also:
[Via Legal / Law]