Brian J. Markovitz, an attorney with the suburban Maryland firm of Joseph, Greenwald & Laake, PA was a major force behind a new Maryland law clarifying the definition of "wage" as used in the State's Wage Payment and Collection Law.
(Vocus/PRWEB ) April 22, 2010 -- On April 13, 2010, Maryland Governor Martin O'Malley signed into law Maryland HB214/S694, "clarifying (that) the definition of 'wage' as used in the Wage Payment and Collection Law" has always included and includes overtime. As a result, Maryland employees who are withheld overtime pay illegally and without good reason can seek triple damages on the overtime they are owed. The law is intended to specifically address two incorrect federal court rulings, McLaughlin v. Murphy and Williams v. Maryland Office Relocators, Inc., in which the federal courts mistakenly held that the triple damages provision did not apply overtime.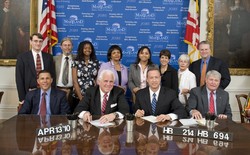 Brian Markovitz (far left), with Governor O'Malley
The law was the result of the suggestion of Brian J. Markovitz, an attorney with the law firm Joseph, Greenwald and Laake, P.A., to Delegate Joseline Peña-Melnyk who sponsored the bill in the House of Delegates and saw to its passage through both chambers. "The two federal court holdings were inconsistent with state court rulings and the intent of the legislature in passing the Wage Payment and Collection Act in 1993, and these rulings resulted in a lot of unnecessary confusion with the courts at all levels that needed to be clarified," said Brian Markovitz. As the bill is a clarification of existing law, it applies to pending cases. "Delegate Peña-Melnyk and Senator Lenett, the Senate sponsor, did fantastic jobs ensuring that there will be judicial clarity on this issue," Mr. Markovitz said.
Joseph, Greenwald & Laake, PA, is a full service law firm with 33 lawyers, practicing in several areas, including business, tax, criminal, employment, family, personal injury, estate planning and medical malpractice. JGL serves local and national clients in Washington, D.C., and throughout Maryland. It has offices in Montgomery, Prince George's, and Howard Counties.
###
See Also:
[Via Legal / Law]
marlboro cigarettes online | tadacip 20 | kamagra oral jelly