POSITIVEPRINT Announces The Launch Of Their New Marketing Campaign – Long Live Print!
Philadelphia, PA (PRWEB) April 21, 2010 -- Online printer POSITIVEPRINT, has partnered with some of the most talented designers and illustrators in the business to show that print isn't dead. Each will design a limited edition poster of their interpretation for the Long Live Print campaign. The first in the series will be designed by the talented The Heads of State. To receive your FREE poster visit http://www.positiveprint.com/longliveprint.php
For the past 40 years POSITIVEPRINT has been producing superior printed products such as brochure, business & postcards, while protecting the environment and caring for the community. Beyond setting an example using recycled stocks and soy-based inks, their customers have the opportunity to donate a percentage of the purchase price to a charity of their choosing.
###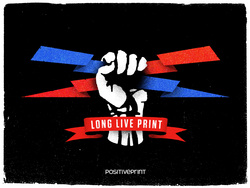 The Long Live Print Poster
See Also:
[Via Legal / Law]
buy marlboro cigarettes | tadacip bestellen | kamagra oral jelly france