Newly created Alliance to drive first nationwide hosted-IP high-definition enterprise voice network
Miami, FL (PRWEB) April 20, 2010 -- IPFone (www.ipfone.com), a provider of VoIP, hosted PBX and unified communications solutions, today announced it is a founding member of the Cloud Communications Alliance, a consortium of leading industry players driving development and adoption of the first nationwide high-definition enterprise voice and data network in the IP "cloud." The Cloud Communications Alliance (CCA) was launched this week at the Cloud Computing Expo in New York City.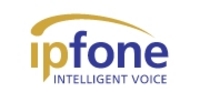 "The future of hosted telecommunications lies in the 'cloud,' and the CCA is committed to that future" said Jonathan Lieberman, IPFone's President and CEO. "The combined strengths of eight industry leaders in hosted-IP voice and data solutions will be greater than the sum capabilities of the individual member companies. Technology will advance faster, customers will see more innovation, investment in the category will increase, and the rest of the industry will need to quicken its pace to keep up."
The eight companies that currently comprise the CCA aim to promote awareness of the Cloud Communications standard and drive its development through the pursuit of new technical standards, capabilities and applications. The CCA will also jointly deliver services directly to customers, allowing enterprise customers to experience more flexible and manageable voice and unified communications systems that will increase employee productivity while reducing costs.
Founding CCA companies include Alteva, Broadcore, Callis Communications, Consolidated Technologies Inc., IPFone, SimpleSignal, Stage 2 Networks and Telesphere. CCA members currently represent more than $100 million in combined annual revenue and collectively serve more than 110,000 business customers in the United States.
To learn more about the CCA, see complete announcements here: www.cloudcommunicationsalliance.com/news.
About IPFone
Founded in 1997, IPFone (www.ipfone.com) is one of the nation's leading providers of hosted unified communications solutions for business. Our core offering is a managed VoIP phone system that provides companies with an "enterprise class" PBX that is implemented quickly, painlessly and for a fraction of the cost of systems with similar capabilities. Also offered by IPFone are SIP trunking; audio, web and video conferencing; co-location; and broadband Internet connectivity at various speeds from DSL to T-1 to Metro-ethernet over fiber. IPFone's solutions deliver next-generation voice and multimedia applications that enable businesses to increase productivity and revenue while enhancing their competitive differentiation and customer satisfaction.
IPFone is a founding member of the Cloud Communications Alliance, which harnesses the power of each member's individual networks and systems to create a seamless, nationwide HD voice network that delivers outstanding voice quality, apps, features and cost savings. For more information about the Cloud Communications Alliance, visit www.cloudcommunicationsalliance.com.
See Also:
[Via Legal / Law]