Haynes and Boone, LLP has added Bart Greenberg as a partner in its Orange County office.
Orange County (Vocus/PRWEB ) April 27, 2010 -- Haynes and Boone, LLP has added Bart Greenberg as a partner in its Orange County office. Mr. Greenberg practices corporate law with an emphasis on mergers and acquisitions, debt and equity financings and the cost-effective representation of entrepreneurs, start-ups and emerging technology companies.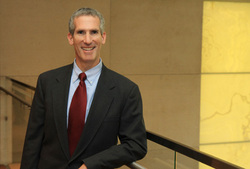 "Bart's focus on corporate work involving entrepreneurial ventures meshes perfectly with our existing focus in Orange County," said Greg Samuel, chair of Hayne and Boone's Corporate Practice Group. "His extensive experience assisting entrepreneurs and emerging companies through all phases of their business -- from inception to financing to viable exit strategies -- offers one-stop shopping for our clients."
Mr. Greenberg was attracted to Haynes and Boone's culture and growth strategy for the region. "Haynes and Boone is remarkably entrepreneurial and boldly entered the California marketplace in 2009 with the acquisition of a significant technology platform in both San Jose and Irvine," he said. "The depth of its technology expertise and its relationship with Silicon Valley will provide a huge benefit to my clients.
"It has long been my desire to better serve my clients by building a comprehensive legal team under one trusted source as their businesses evolve and their legal needs change," Mr. Greenberg said.
Mr. Greenberg's experience extends to all types of general corporate matters, essentially serving as outside general counsel to most of his clients. Representative matters include, among others, mergers and acquisitions, with an emphasis on consolidations and roll-up strategies; private securities offerings, with an emphasis on those for emerging technology companies, including so-called "friends & family," angel and venture capital financings. Also, debt financings, including senior credit facilities, as well as mezzanine, subordinated and vendor-facilitated debt facilities; the formation of business entities, such as corporations, limited liability companies and joint ventures; shareholder and buy-sell agreements; employment and consulting agreements; and employee compensation matters, with an emphasis on providing equity incentives to employees through the use of restricted stock, stock options and phantom stock plans.
Mr. Greenberg also is a strong contributor to his community. He is active in many local technology organizations, including Tech Coast Venture Network (www.tcvn.org), where he currently serves as chairman; TechBiz Connection (www.techbizconnection.org), where he currently serves on its board; OCTANe (www.octaneoc.org), where he currently serves on its Technology Leadership Council; and the Digital Media Center in Santa Ana, California (www.dmc-works.com), where he is a member of the advisory board.
Haynes and Boone, LLP is an international corporate law firm with offices in Texas, New York, California, Washington, D.C., Mexico City and Moscow, providing a full spectrum of legal services. With almost 550 attorneys, Haynes and Boone is ranked among the largest law firms in the nation by The National Law Journal. The firm has been recognized as one of the "Best Corporate Law Firms in America" (Corporate Board Member Magazine, 2001-2009), as one of "The Best 20 Law Firms to Work For" (Vault.com, 2009), and as a Top 100 law firm for both diversity (MultiCultural Law Magazine, 2009) and women (Women 3.0, 2008).
See Also:
[Via Legal / Law]