The Houston Maritime Injury Lawyers call for creation of offshore worker safety task force to promote interest of oil rig crews and other maritime industry employees.
Houston, Texas (PRWEB) April 21, 2010 -- An April 20, 2010 oil rig explosion in the Gulf of Mexico once again illustrates the hazardous and sometimes deadly work conditions that maritime workers face on a daily basis, say the Houston Maritime Injury Lawyers, Arnold & Itkin LLP.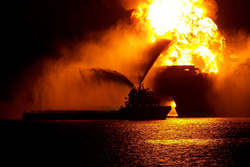 Oil Rig Fire
"Once again we see catastrophic injuries in one of the nation's most dangerous industries," said Kurt Arnold, a Houston maritime injury lawyer. "Greater safety measures need to be taken to prevent future accidents like this."
The latest explosion and fire occurred on the Deepwater Horizon, a massive oil rig owned by Transocean Ltd., in Houston but leased to BP PLC. At the time of the accident, the rig was drilling about 52 miles southeast of Venice, La., in 5,000 feet of water.
Built in 2001, the Deepwater Horizon is 396 feet long and 256 feet wide and can operate in water depths of up to 8,000 feet, with a maximum drilling depth of about 5.5 miles.
Most of the 126-member crew escaped from the burning oil rig but at least seven suffered critical injuries, and early news reports indicated 11 crew members were missing.
Jason Itkin, another Houston maritime injury lawyer, called for the creation of an offshore worker safety task force.
"Our firm is a member of the National Mariner's Association, and we have a deep interest in increasing and promoting the safety of offshore workers," Itkin said. "Accidents like this show additional safety measures are needed now."
The National Mariners Association (NMA) is an advocacy and watchdog group that engages the political process, primarily at the national level, to improve the safety, health and social stability of U.S. mariners.
"Injured oil workers may have claims for their injuries under various federal laws, including the Jones Act," Itkin said.
About Arnold & Itkin LLP
The lawyers at Arnold & Itkin LLP understand the complexities and legalities of maritime law and have a successful track record of verdicts and settlements. If you have been injured in an oil rig or other maritime accident, our goal is ensure you get the compensation you deserve. We have the expertise to handle maritime claims at port cities along the Gulf Coast in Texas, Louisiana, Mississippi and Alabama.
For a free consultation, call us toll free at (866) 222-2606 or contact us online using the form on this page. We can advise you on all aspects of maritime law and the benefits you are entitled to under the Jones Act, the Death on the High Seas Act, the principle of maintenance and cure, or the Longshore and Harbor Workers' Compensation Act.
###

See Also:
[Via Legal / Law]