After a landmark victory in the U.S. House of Representatives, TV journalist Veronica De La Cruz pushes the Senate to finish sweeping reform legislation in honor of her brother Eric.
Washington, DC (PRWEB) March 23, 2010 -- In a historic 219-212 vote Sunday night, the U.S. House of Representatives voted to pass the Senate health care reform bill, making it possible for President Barack Obama to soon sign into law the most significant social legislation in decades. After nearly a year of hard fought advocacy, overcoming numerous obstacles along the way, Veronica De La Cruz can finally taste victory in her battle for health care reform in memory of the brother who passed away last July.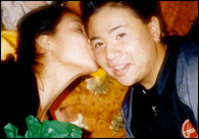 Veronica De La Cruz and her brother, Eric, who passed away July 4, 2009.
"My brother Eric is smiling today," said De La Cruz from Paris, where she is researching public policy toward health care in the country ranked #1 by the World Health Organization. "Finally, as a country, we have taken a major step forward in improving the lives of millions of Americans, and future generations. I am devastated not to have Eric here with me to celebrate, but I also know that, in a way, he's always been with me throughout this battle. It wouldn't have been possible without him."
De La Cruz has been campaigning for reform in health care ever since her brother, Eric De La Cruz, passed away in July 2009 while awaiting a heart transplant delayed for years by a lack of adequate insurance. For months, she has worked closely with lawmakers in shedding light on the real cost of inaction on health care. Numerous trips to the Capitol gave De La Cruz a rare opportunity to convey her brother's story directly to those who would be voting on the bill that could address obstacles he faced. Backed by a large grassroots network of supporters, De La Cruz has mobilized thousands to act via rallies, fax campaigns, letter writing and phone calls.
"The passage of the bill through the House was so historic and something that so many people have fought so long for. Sadly, it came too late for many of those fighting for it, including my brother," said De La Cruz. "And for those people, we must continue to work to make sure the Senate now does its part in passing carefully crafted amendments through the reconciliation process. We cannot afford to take anything for granted. Even after the President signs this bill into law, we must continue to work hard in coming years to continually improve health care law. This isn't the end. It's the beginning."
De La Cruz thanked those most instrumental in the House's final passage of the bill, including Nancy Pelosi, Henry Waxman, Jan Schakowsky, Dina Titus, Anthony Weiner, Charles Rangel, John Dingell and others, many with whom she personally met to discuss Eric's story.
De La Cruz is encouraging supporters to call Congress at 202-224-3121 and ask for their Senators' offices to demand that they support the amendments forwarded by the House via reconciliation. She also encourages people to visit http://www.ericslaw.com to find out how to get involved.
See Also:
[Via Legal / Law]
viagra pharmacy online | kamagra tablets | cialis super active+