As part of one of the nation's best law student mentoring programs, Sarah Stempky joins Michigan Auto Law
Southfield, Mich. (PRWEB) March 18, 2010 -- Michigan Auto Law (Gursten, Koltonow, Gursten, Christensen and Raitt, PC) would like to announce that law clerk Sarah S. Stempky will be joining the firm as an attorney. Stempky, of Royal Oak, is the fifth Michigan Auto Law clerk to be offered a job as an associate.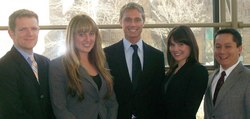 From left: Roger Thon, Sarah Stempky, Brandon Hewitt, Alison Tomak, Thomas James
Michigan Auto Law is the largest law firm in the state specializing in
car accident
, truck accident and motorcycle accident personal injury cases.
"Our law school mentoring program is one of the firm's proudest accomplishments," said
Steven M. Gursten
, partner of Michigan Auto Law. "Our goal is to take truly talented, remarkable law students — the ones who are top of their classes and have exceptional legal skills, like Stempky — and help them develop into the right kind of personal injury lawyers."
For a small law firm, Michigan Auto Law has one of the best and most dynamic law student employment opportunities around, he added. The firm has tripled in size, growing from six to 19 lawyers with the addition of Stempky, over the past 15 years. This was a period most Michigan personal injury lawyers would say has been the state's most difficult, due to some of the nation's harshest tort reform laws, enacted in 1995.
Michigan Auto Law's mentoring program is dedicated to giving law students real opportunities to grow and gain valuable legal experience. If you're a law student looking to become an outstanding civil justice lawyer, review the "Opportunities" section on www.michiganautolaw.com. There are free resources for law students, including assistance with the no- fault questions on the Michigan bar exam. We also list the top 10 tips for new personal injury attorneys.
The firm's other attorneys who started as exceptional law clerks include Thomas W. James, Alison F. Tomak, Brandon M. Hewitt and Roger J. Thon.
"These law clerks, who have become excellent trial lawyers here, all started as accomplished law students who demonstrated a commitment to helping people, a belief in our civil justice system, and a desire to develop top legal and trial skills," Gursten said.
Stempky will serve as a litigation attorney. She has a bachelor's degree from Alma College in psychology. Stempky will receive her juris doctorate from the Michigan State University College of Law, where she will graduate with Cum Laude honors.
At Michigan State University, she was an instrumental member of her Commercial Arbitration Team and Moot Court Team for two years, respectively. Her Commercial Arbitration Team won the regional championship of the American Bar Association 2009-10 Arbitration Competition in Omaha, Nebraska in 2009. Additionally, Stempky's Moot Court and Advocacy Board Team were semi-finalists of the William W. Daniel Mock Trial Competition in Atlanta, Georgia.
About Michigan Auto Law:
Michigan Auto Law is a third-generation law firm with 19 lawyers specializing in helping people who have been seriously injured in automobile accidents throughout the state. The firm has received the top reported jury verdict for auto accident cases in Michigan for six of the past nine years, according to published year-end verdicts and settlements reports. Michigan Auto Law is headquartered in Southfield, at 26555 Evergreen Road, Suite 1530; with additional offices in Detroit, Ann Arbor, Grand Rapids and Sterling Heights. For more information, call (800)777-0028.
Here you can read the Michigan Auto Lawyers Blog.
See Also:
[Via Legal / Law]
generic medications | buy kamagra uk | cialis super active+ 20mg