Directory of State Overtime Laws added to IQOvertime.com to help workers understand their right to overtime pay and wages.
New York, NY (PRWEB) February 26, 2010 -- IQ Overtime is pleased to offer a newly created Directory of State Overtime Pay Laws for individuals who are interested in researching their rights to overtime pay. Workers who believe that they are being unfairly denied overtime wages can use this resource to learn more about the regulations in their state and determine if their employer is violating the law. A Free Case Evaluation is also available on the site for those who wish to pursue an overtime lawsuit.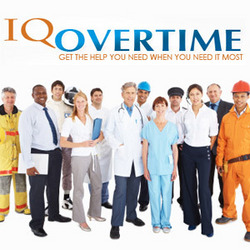 If you have been denied overtime pay, an overtime attorney from IQOvertime.com can help you recover unpaid wages.
According to a federal law known as the Fair Labor Standards Act (FLSA), non-exempt employees are entitled to overtime pay for hours worked over 40 in a single workweek. However, some states have their own regulations regarding minimum wage, overtime pay, employer record keeping, meal and rest breaks, and other labor issues. IQ Overtime's Directory of State Overtime Laws includes information on wage and hour laws in all 50 states. A frequently asked questions section is also included on each state's
overtime law
page in order to address some of the common concerns that workers have regarding overtime pay.
Employees who work over 40 hours per week may be entitled to
overtime pay
even if their employers tells them that they are not eligible to receive it. Some employers intentionally misclassify their employees in order to avoid paying them time and a half for the overtime hours they work. Other ways that employers may violate the FLSA include forcing employees to work off the clock, offering comp time instead of overtime pay, and paying employees at their regular rate for overtime hours.
Workers who believe that their employers have denied them the overtime pay they deserve may be entitled to participate in an overtime lawsuit and recover unpaid wages and other damages. Visit IQOvertime.com and complete the Free Overtime Case Review form to get connected to an unpaid overtime attorney who can evaluate your claim and determine if your rights have been violated.
About IQ Overtime
IQOvertime.com was established to provide legal help and information for workers who have been denied overtime compensation. Comprehensive resources for workers are available on this site, including informational articles, an overtime calculator, answers to frequently asked questions, and an overview of state overtime laws. Workers who have been denied overtime pay can get the legal help they need today by visiting IQOvertime.com and completing the Free Case Evaluation form.
See Also:
[Via Legal / Law]
generic medications | buy kamagra cheap | cialis super active plus