Harry Townsend leaps out of retirement to expand international marketplace.
Los Angeles, CA (PRWEB) January 29, 2010 -- Chrome River Technologies, a leading provider of expense reporting and spend management solutions for law firms and professional service organizations worldwide, announced today that it has expanded its international presence with the hire of Harry Townsend as Regional Sales Manager of its services in the United Kingdom. Chrome River extended into its sales and marketing division its philosophical commitment to building products and services specifically around customers' needs and now introduces a new sales executive to the team who has a deep understanding and extensive expertise serving law firms and other professional service organizations in the international marketplace.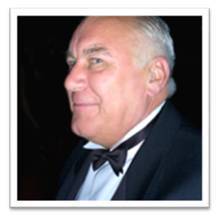 Harry Townsend / Chrome River
Harry Townsend is an accomplished, professional sales executive that began with the legal provider Kienzle/Axxia in 1977 and most recently concluded at Thomson Reuters (formerly
Elite
) in 2007. Across this career of serving the professional services market, Mr. Townsend has developed tremendous contacts and relationships throughout the market and claimed awards such as "Legal Vendor Personality of the Year". He reemerges now at Chrome River to expand on the fast-growing company's international client base, which already includes two prominent UK law firms.
"Like Michael Jordan, Brett Favre, Lance Armstrong, Pele and Romario, all the great ones come out of retirement", stated Dave Terry, co-founder and COO of Chrome River. "We are delighted to have Harry back as part of our team which also demonstrates our commitment and desire to serve the needs of our expanding international markets."
Townsend joins fellow Regional Sales Managers Jim Whitmore and Serge Merkin, both of whom were part of the early Chrome River team, and two later hires, Scott Brinkerhoff and Karen DeLucia-Goldstein, each of whom has amassed over 25 years experience working with law firms and professional service organizations. While Serge Merkin hails from Thomson West, the rest of the sales lineup previously worked at Thomson Elite with Chrome River's management team of Alan Rich, Dave Terry and Anne (Eddings) Becknell.
The addition of Harry Townsend to the experienced Chrome River team will help Chrome River's customers and prospects to fully realize the value and potential of its products and services.
About Chrome River
Chrome River Technologies, Inc. provides the only online expense reporting and spend management solution designed specifically for law firms and professional services organizations. Utilizing the latest "Software as a Service" technologies, Chrome River Expense delivers immediate payback via a service delivery model that requires no hardware, no software, and no long-term commitment. This unique service is tailored for all of the specialized requirements of professional services organizations and allows firms to quickly solve the many issues of expense reporting, compliance, routing, approvals, receipt imaging and billing integration. Additional information about Chrome River Technologies, Inc. and its solutions may be obtained by phone at +1.888.781.0088 or by visiting the company website at www.chromeriver.com.
See Also:
[Via Legal / Law]