Schwartzapfel Truhowsky Marcus P.C. has a history of charitable giving and community service.
New York, NY (PRWEB) November 25, 2009 -- Continuing a long tradition of charitable giving, the New York personal injury law firm of Schwartzapfel Truhowsky Marcus P.C. has donated 250 pounds of food to the Long Island Harvest hunger relief organization.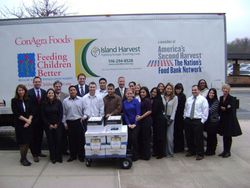 Lawyers and staff of Schwartzapfel Truhowsky Marcus P.C. in front of Island Harvest food truck
"We decided years ago to give back to our community at every opportunity," said lawyer Steven J. Schwartzapfel. "There's no greater satisfaction than knowing you helped make someone's life a little better."
Schwartzapfel Partners has contributed to Island Harvest in the past. But when calling to arrange this year's donation, the firm learned the relief organization needed a minimum of 150 pounds in order to arrange pick-up.
"This requirement wasn't a problem," Schwartzapfel said. "We were able to collect and donate a full 250 pounds."
The firm's entire staff contributed to the food donation. The firm is active in a variety of civic events and has contributed to more than 40 charities, foundations and community groups, including March of Dimes, Schneider Children's Hospital, Habitat for Humanity and The Nature Conservancy.
Island Harvest is the largest Hunger Relief organization on Long Island. In addition to collecting and distributing food, the organization conducts educational programs to increase hunger awareness and reduce food waste. For two years, the organization has received a four star rating – the highest awarded – from Charity Navigator, America's largest independent evaluator of charities.
About Schwartzapfel Truhowsky Marcus P.C.
Schwartzapfel Truhowsky Marcus P.C. is a well-respected plaintiff personal injury firm in New York. With more than 150 years of combined experience and highly competent co-counsel throughout the country, Schwartzapfel Truhowsky Marcus P.C. focuses on all types of personal injury cases, including construction site accidents, medical malpractice, gallbladder surgery injury claims, car accidents, workers' compensation, Social Security disability and defective products. For more information, call toll-free at 1.800.966.4999 or visit the firm's Web site at http://www.fightingforyou.com/.
###

See Also:
[Via Legal / Law]