Members and guests of LeTip International, the premier business networking organization, gather on Monday, November 2, at the Embassy Suites Hotel, Lynnwood, WA.
Lynnwood, WA (Vocus/PRWEB ) October 29, 2009 -- The Washington/Idaho/Western Canada region of LeTip International is pleased to announce two Power Networking Events will be held on Monday, November 2, 2009, at the Embassy Suites Hotel, Lynnwood, WA. A morning event will be from 7:01 am to 9:01 am, and a midday event from 11:31 am to 1:31 pm.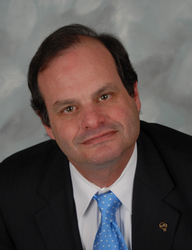 Doug Elburn, Regional Director/Washington/Idaho/Western Canada
This annual event recognizes outstanding LeTip members and chapters for their efforts over the past year, as well as sharing successful strategies from members throughout the region. The event is open to LeTip members and guests. Attendance is expected to approach 600.
"We are serious about business referrals," said Doug Elburn, Regional Director for the Washington/Idaho/Canada West region, "and our members will be putting their networking skills to work at this event, just as they do for each other during their weekly chapter meetings." Elburn continued, "LeTip also invites non-member business professionals to attend either one of the two sessions scheduled. They can experience first-hand why we are known as the premier, business referral organization and learn how LeTip can help them find qualified leads for their businesses."

This year, LeTip International President and CEO, Kim Marie Branch-Pettid will be present. "Creating powerful, mutually-rewarding relationships is what LeTip is all about," said Branch-Pettid. "LeTip members, such as those who are being celebrated at this exciting event, really make business happen for themselves and their chapters."

To register for either session of this annual event, please contact Doug Elburn, Regional Director.
About LeTip International:
LeTip International, headquartered in Mesa, AZ, is the world's largest, privately owned, professional business leads organization. Since 1978, LeTip programs have helped over 50,000 members, throughout the United States and Canada, build business success through personal referrals.
LeTip International's structure set the standard in the word-of-mouth referral industry. Members are known for their professionalism, dedication, and loyalty to one another, and to the LeTip Program.
LeTip Chapters meet weekly to exchange qualified leads, build solid business relationships, develop strong presentation skills and become proficient networkers. Only one representative of any given profession is accepted into a chapter, and members are chosen for their occupational expertise.
For more information about LeTip International, or to find out if your category is open in a chapter, please contact the LeTip Regional Director in your area or search the LeTip Member Directory.
See Also:
[Via Legal / Law]