A mother complains, yet, a window remains unfixed until an 8 year old plunges 7 stories.
New York, NY (PRWEB) August 28, 2009 -- An 8-year old, appropriately named Destiny, falls out of a 7 story broken window at her housing project apartment and miraculously escapes death. In an interview with the New York Post, Destiny's mother said she first informed the city Housing Authority of the faulty windows in August 2008. The window was scheduled to have been repaired last month, but it wasn't.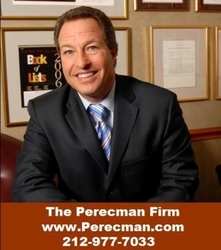 While no case has been filed, New York personal injury lawyer David Perecman predicts a successful bodily injury lawsuit against the Authority. The girl suffered a broken leg, broken hip and damage to her liver and intestines.
"It's a mother's worst nightmare. Knowing that you tried to protect your children and the city failed you," said Perecman, who is not representing the family.
Chances are New York personal injury lawyers won't fail this family now. Destiny's mother had long complained to the Authority that the upper portion of the window opened more than the maximum allowed 4½ inches.
"Unfortunately, to protect children, it takes an incident like this. Every parent in New York, personal injury lawyers included, knows how important those windows are," added Perecman.
About David Perecman and The Perecman Firm, PLLC:
For the past 25 years, the New York personal injury lawyers, construction accident, auto accident and medical malpractice lawyers at The Perecman Firm, PLLC have championed all types of cases for personal injury accidents. David Perecman, founder of the Firm, is the past Secretary of the New York State Trial Lawyers Association (NYSTLA) and a chair of its Labor Law Committee. Mr. Perecman's achievements have brought him recognition as an Honoree in the National Law Journal's Hall of Fame, in New York Magazine's "The Best Lawyers in America" and The New York Times Magazine "New York Super Lawyers, Metro Edition".
The Firm has recovered millions of dollars for its clients. Among the more recent victories, Mr. Perecman won a $15 million verdict* for a construction accident, a $5.35 million dollar verdict** for an automobile accident, and a $40 million dollar structured settlement for medical malpractice.
*later settled while on appeal for $7.940 million
** later settled for $3.5 million
"Lawyer Advertising"
"Prior results do not guarantee a similar outcome."
See Also:
[Via Legal / Law]