Zip Conferencing has introduced new pricing packages for conference call services that include rates as low as 2.5¢ per minute.
Whitehouse Station, NJ (PRWEB) May 29, 2009 -- Zip Conferencing announced today that it has introduced new low rates for its toll free conference call services. In addition to a Pay-As-You-Go conference call rate plan that allows users to only be billed for what they use, the company now offers Monthly Minute Plans that offer significant discounts for customers who use conference call services on a consistent basis.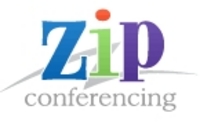 For as little as $19.99 per month a customer can prepay for conference call minutes and receive rates previously reserved for only the largest customers. For $19.99 a customer will receive 515 minutes, an effective rate of 3.9¢ per minute. Any conference call minutes over the amount included in the plan are charged at 3.9¢ per minute.
Other plans for higher volume customers were also introduced. The rates for these plans range from 3.5¢ per minute to as low as 2.5¢ per minute depending on the plan. More Info.
"Full featured, high quality conference calls are now available at rates normally reserved for only the highest volume conference call clients," said Jim Miller, President of Zip Conferencing. "These new rates will make conference calls and their benefits available to businesses of all sizes."
Conference Call Features
The conference call services are provided with a number of standard features. The conference call services include a number of host controls from within the conference call such as call recording, muting participants and controlling volume. More Info.
In addition, customers have access to an online account management system that allows them to control all aspects of their account such as adding conference calls, customizing their conference call options and accessing usage information.
Zip Conferencing provides high quality, reliable audio and web conference call services combining easy to use, convenient features with affordable rates.
Contact:
Jim Miller, President
Zip Conferencing
908-691-4980
http://www.zipconferencing.com
See Also:
[Via Legal / Law]