According to the Israel News Agency, after this past week, no one can say that the Jews control the media. After more than 3 million views on YouTube, the Israel produced satire We Con The World, illustrating the facts and truth of the Pallywood and Turkey staged Gaza Freedom Flotilla, was removed from YouTube. As Iranian ships close in on Israel, the pro Israel, pro democracy video is now being hosted on WeJew.com and MetaCafe.com.
New York, NY (PRWEB) June 16, 2010 -- "After this past week, no one can say that the Jews control the media," says Joel Leyden, publisher of the Israel News Agency.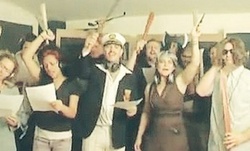 Hamas, Islamic Jihad "peace activists" as portrayed in the video 'We Con The World'
Leyden states that after more than 3 million views on YouTube, the Israel produced satire We Con The World, illustrating the facts and truth of the Pallywood and Turkey staged Gaza Freedom Flotilla, was removed from YouTube.
Israel which suffers from both a lack of budget and PR professionals finally got in the last word with this Web viral marketed video, after the Israel Defense Forces were accused of killing "humanitarian peace activists". The so-called peace activists were actually caught on video attacking IDF soldiers who came to inspect a vessel for weapons. The IDF, which were carrying paintball guns, were attacked with gunfire, knives, metal poles, chains and metal balls made for slingshots.
"We Con the World," which was sung to the tune of "We Are the World," the 1980's fund-raising song for African poverty and recorded again last year to help the people of Haiti following a devastating earthquake, was removed from YouTube over a copyright claim by Warner / Chappell Music, Inc.
The video was created by Latma, an Israel group that normally produces political satire in Hebrew. A Washington, D.C. think tank, the Center for Security Policy, funded the project.
A link to the video was circulated by the Israel Government Press Office and several Web 2.0 PR professionals through Facebook and Twitter. When the Israel News Agency received the video it had only a few dozen views but within 24 hours the video had blasted off into cyberspace, with over 100,000 views.
Carolyn Glick, a Latma editor and contributor to the Jerusalem Post stated that copyright attorneys had told the group that the use of the song for the parody falls under the Fair Use Doctrine.
Fair Use is a doctrine in US copyright law that allows limited use of copyrighted material without requiring permission from the rights holders, such as for commentary, criticism, news reporting, research, teaching or scholarship. Transcending this, the use of the We Con the World video was protected by the additional facts that it emerged from a non-profit group - no one was making any money from the distribution of this anti Islamic Jihad Hamas video.
When searching for the video today on YouTube one gets a disclaimer stating: "This video is no longer available due to a copyright claim by Warner/ Chappell Music, Inc."
Please notice the word "claim".
Leyden asks: "Are we missing something in this picture? Does this mean that all free speech on YouTube can come tumbling down with a simplistic "claim". Anyone can make a claim. My cats can make a claim. But to prove the claim is an entirely different matter."
Leyden, one of the pioneers of the Internet who co-created the first Web site in Israel and was the first to integrate public relations with search engine optimization SEO, says that Israel has been subjected to so many false claims that one would believe that Israel hands out poison candy to Palestinian children and eat Palestinian babies. In fact today, one so called claim stating that a Palestine boy named Al-Dura who was supposed to have been killed by the IDF was actually killed by Palestinians who created a faked death and has been proven as a hoax by a French court. The French government TV channel originally broadcast staged scenes from segments of film that slandered the IDF.
"We in Israel may want to think that the world is changing in a positive manner, becoming more democratic and open to free speech," says Leyden. "While in fact, a heavy and potent accent of Islamic Jihad is now being illustrated by the creation of electronic Jihad and legal Jihad - holy war against all Jews and Christians. This Jihad is having a devastating effect everywhere - from London and Paris to Turkey and the White House.
"As Iranian ships close in on Israeli waters, attempting to provoke a war, Israel needs to remember what it learned in 1948. Never rely on others. Never take any nation's or corporate support for granted. Just listen to the prophetic words of the video: "the truth will not find its way to your TV."
"YouTube, which is owned by Google and was created by Jews, has turned her back to Israel during these days of severe crisis with Islamic Jihad, Turkey and Iran. We can only hope that YouTube learns that it made a mistake and abides by law and not succumbs to "claims" in the future."
In the meantime, Israel will once again distribute 'We Con The World' through other medias such as MetaCafe.com, WeJew.com and JewTube.com.
"The founder of WeJew.com, Shlomo Wolllins, has extensive journalistic experience and media exposure both in Israel and abroad," Avi Abelow, CEO of WeJew.com told the Israel News Agency.
"From his experiences covering the Sderot terror missile crisis in 2007, and the 2006 Lebanon war on-the-scene as a video journalist and interacting with the global media - it became clear that there was and would be a critical need for an alternative video platform that has a pro-Israel, facts-based editorial policy and approach. The flotilla incident which resulted in perhaps the most pressing PR crisis for Israel in years came as solid reinforcement of this need as YouTube was flooded with anti-semitic videos and comments simply overwhelming any factual or pro-Israel video content."
Abelow adds: "The banning of the "We Con The World" viral video by YouTube on June 12th, 2010 provided a flashpoint for the Jewish world's growing perception that we are facing a media onslaught of unprecedented proportions - and the approaching Iranian ships will provide the anti-Israel forces with another unique opportunity to use social media to attack Israel's right to defense and even right to exist."
"We must remember that the world stood quietly during the Holocaust as the 6 million walked into gas chambers," says Leyden. "We will no longer be silenced."
"It's not as if a clip that has been seen by 3.5 million viewers is just going to disappear," said Glick.
"We see a double standard here, ours is the only one that has been attacked. If anybody thinks that this is going to intimidate us, then they're sorely mistaken," she said.
###

See Also:
[Via Legal / Law]