W3creative.com the creator of the simcountry game announces the release of its latest version. W3creative founder and CEO, Jossi Gil, said: Simcountry 4 is a major step forward and will add new dimension to this extensive environment where thousands of players are building countries, empires, enterprises and now also space stations and shuttles.
Bilthoven, The Netherlands (PRWEB) June 17, 2010 -- Simcountry first released in 2004, now runs 5 large virtual worlds, with thousands of countries run by players who take responsibility for all aspects of leadership, from education to warfare.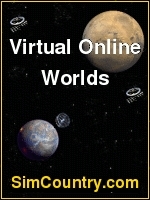 Simcountry
Although war has traditionally been part of the game, many players decide to play the strategic war free version, building assets and gaining power by the strength of their economies.
According to its makers, the game is an in depth, very large and feature rich MMOG where each player is a president of a country. Players cooperate with each other, trade, exchange knowledge, products and assets but also fight for dominance.
For more information please visit: Simcountry
See Also:
[Via Legal / Law]