Due to widespread concern about negative customer reviews on Yelp, Propadoo.com is offering a way for businesses to take control of their on-line reputation.
Denver, CO (PRWEB) June 18, 2010 -- Testimonial & search engine marketing firm Propadoo.com announced today that it is providing 6 month full-featured accounts for free for any business that believes it has been has wronged by negative reviews on Yelp or other review services.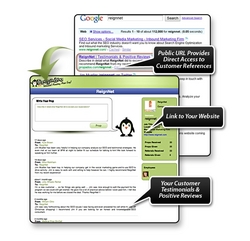 Get Your Customer Testimonials Indexed By The Search Engines Automatically!
Propadoo.com enables businesses to leverage positive customer testimonials as an SEO (search engine optimization) tool as customers place the positive testimonials on the Propadoo site. Powered by this user-generated content, the Propadoo profile gets indexed by the search engines offsetting negative search results.
Propadoo not only provides the vehicle for customer testimonials to rank in search engines, it enables the positive testimonials to be found on social media sites like Twitter and Facebook as well. "Our platform is a simple way for companies to improve their search engine rankings and get positive buzz about their business in the social media environment" says Mueller.
"Manage your reputation before someone manages it for you" says Mueller. "Send any existing testimonials you'd like to promote to the search engines, Twitter & Facebook to mytestimonials(at)propadoo(dot)com and we will set up your free account. Please include a link to the 'review in question' to qualify for the free account."
# # #

See Also:
[Via Legal / Law]