Morgan Drexen, Inc. provides legal software in the continued fight against consumer debt; they provide integrated legal services and support to attorney's representing consumers facing the scar of bankruptcy. Consumers in the Northeast are high on the list of alternative debt settlements.
Los Angeles, CA (Vocus/PRWEB ) June 23, 2010 -- Economists claim that the first quarter of 2010 has improved at a slower rate than expected yet debt settlements are on the rise. Morgan Drexen, Inc. are part of an alternative to debt settlement that is proving successful.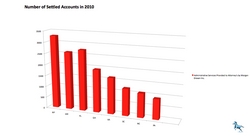 Number of Settled Accounts in 2010
Becoming debt free for many struggling families has finally become a reality. Debt settlement is a dirty word but in a vulnerable economic environment there are evolving competitive alternatives to debt settlement companies that are bringing strong results.
The northeast in particular is dealing with enormous debt and although the people of New York, New Jersey, Ohio and South Carolina know how to blow through their cash, they are also among some of the highest regions in completing debt settlement programs.
Morgan Drexen, Inc. (MD) is one such evolving company that provides legal software support for attorneys who assist people facing bankruptcy. New Jersey attorney Milton Bouhoutos says, "In recent years debt has spiraled for many families with the economy forcing many out of permanent work." He also admits that having help with all the paperwork allows him to spend more time helping clients who would have otherwise struggled to afford an attorney. MD provides the administrative support to Mr. Bouhoutos.
The attorneys using this legal support service provided by Morgan Drexen are proving to be successful, since January 2010 there has been more than $44 million in debt settled for just over $17 million relieving hundreds of families of debt. These really are numbers worth talking about. MD operates an alternative to debt settlement through a safe and reliable platform providing integrated support for attorneys representing Consumers.
Debt settlement is not a one size fits all solution but it's the only process to prevent the scar of bankruptcy for many people throughout the US.
Media Contact
Raychel Harvey-Jones
Phone: 714 9281500
Cell: 714 3280364
See Also:
[Via Legal / Law]