Empire Government Strategies, New York's third fastest growing lobbying firm, played a major role in drafting the nation's most comprehensive electronic waste recycling law on behalf of the electronic manufacturing industry.
Uniondale, NY (PRWEB) June 9, 2010 -- New York State now has a new electronic waste law thanks, in part, to Empire Government Strategies. Empire played a major role in the drafting of this law; without Empire's input on behalf of the electronic manufacturing industry, it is estimated the State would be without a law for at least one or two more years.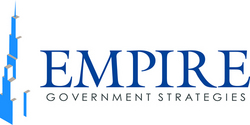 For the past two years, Empire Government Strategies has been the chief spokesman for the industry on the development of this important legislation. One of the key issues that prevented the passage of this proposal last year was the fact that companies that manufacture large equipment weighing more than 100 lbs. were prohibited from collecting a fee for the collection of the equipment. Under the new law signed by Governor Paterson, companies will be allowed to collect a fee for equipment that weighs more than 100 lbs., which excludes most of the smaller home or office type equipment that is generally in use.
With implementation of this new law, New Yorkers will be able to recycle their printers, computer monitors and other electronic waste at no cost, depending on the size of their business and whether or not they are a non-profit organization. Under the terms of this law, all manufacturers that sell electronic equipment in the state must have a free, convenient electronic waste, or e-waste, recycling program in effect by April 1, 2011. The law also makes it illegal for individuals to dispose of electronic waste in landfills effective January 1, 2015.
Under the new law, each manufacturer will have to recycle or reuse its market share of e-waste by weight, based on a 3-year average of annual sales in the state. They will also have to submit annual reports to the Department of Environmental Conservation documenting that they have met mandated goals for collecting and recycling.
The new law covers televisions, VCR's, DVD's and MP3 players, game consoles, fax machines, and computers along with any accessories such as monitors, keyboards, mice, scanners and printers.
"I am pleased and delighted that our team was the major player in advocating on behalf of the industry and in getting this important environmental proposal enacted into law, but at the same time protecting the industry from undue costs and burdens which it was being forced to assume under the original proposals," according to Arthur "Jerry" Kremer, Founder and Chairman of Empire Government Strategies.
"This is, yet another major victory for Empire and our clients," said Anthony M. Figliola, Vice President of Empire Government Strategies. "Our team has proved time and time again that when an organization needs a professional government relations team to advance their cause whether on the federal or state level, Empire is there to answer the call."
See Also:
[Via Legal / Law]
acheter sildenafil | buy erectalis | lexapro online no prescription