SaaS-based solution for litigation hold preservation notification and compliance tracking provides clients with defensible process for meeting obligation for issuing legal holds
Seattle, WA (PRWEB) April 19, 2010 -- TERIS announced that it has partnered with Zapproved as a Legal Hold Pro Reseller. As one of the leading eDiscovery service providers over the past nine years, TERIS is implementing Zapproved's Legal Hold Pro to help clients automate and manage their litigation hold processes. Legal Hold Pro provides an easy-to-implement, low-cost approach to manage hold notification and compliance tracking. Users of the system can employ best practices that include sending written holds, tracking custodial compliance, and sending periodic updates and reminders.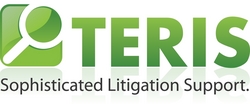 TERIS Sophisticated Litigation Support
TERIS already provides clients with an extensive portfolio of "best of breed" eDiscovery solutions, ranging from data collection to document production. Legal Hold Pro expands the company's services by offering a tool that clients can use at the earliest stage of litigation while reducing risk using an automated and defensible process.   
Now that the importance of the legal hold process has been reinforced by recent case law, most notably in the recent Pension Committee opinion, managing compliance effectively and efficiently is critical. Legal Hold Pro provides a secure method for implementing defensible and documented communications with custodians.
"Legal Hold Pro provides our Clients with a cost-effective, defensible and easy-to-use system for automating the Legal Hold Notification process, and adds to TERIS' management of data preservation and collections," said Peter Sternkopf, TERIS Chief Technology Officer. "Since the Legal Hold Pro system is offered as a Software-as-a-Service (SaaS), it works seamlessly with our Clients existing computer systems – all they need is a connection to the Internet and a web browser."
"We are excited to partner with TERIS as one of the leading litigation support providers in the country. We will be fully engaged with the team at TERIS to provide the same level of service excellence that its clients have come to expect," said Monica Enand, Chief Executive Officer of Zapproved.

Partnering with Zapproved as a Legal Hold Pro Reseller allows TERIS to extend its services further to the left of the EDRM and provide maximum value to its clients at the onset of their case; rather than later in the litigation process. TERIS also features a deep technical Project Management team that has more than 60 technical certifications across the company. By expanding its offerings and adding talented professional staff, TERIS is accelerating its leadership position in the litigation support industry and continues to deliver unrivaled value to its clients.
About Zapproved Inc.
Founded in February 2008, Zapproved is a Software-as-a-Service (SaaS) provider based in Portland, Ore., with a platform that adds accountability to business communications. Zapproved's first products focus on targeted compliance workflows that reduce liability risk in legal and regulatory compliance. The company is expanding its product line to create a suite of applications that address additional compliance issues and workplace collaboration. To learn more, visit www.zapproved.com/AboutUs.
ABOUT TERIS
Founded in 1996, TERIS is the leading full-service litigation support service provider in the United States. TERIS provides Electronic Discovery, Computer Data Forensics, Consulting and Project Management, Managed Review and related services to corporate legal teams and law firms across the U.S. and internationally. TERIS' staff of over 300 was named one of the top 20 eDiscovery service providers by industry researcher Socha-Gelbmann in 2008. The company operates a free job board for the legal profession at DiscoverLegalJobs.com and has offices in Seattle, San Francisco, Silicon Valley, San Diego, Phoenix, Austin, Dallas and Chicago. To learn more about TERIS, visit TERIS.com or follow the company on Twitter at Twitter.com/DiscoverTERIS.
Media Contact: Kip Hauser, TERIS, 206-521-8717 or David(dot)Kaufer(at)Zenwerks(dot)com
Chris Bright, Zapproved, 503-307-1261 or media(at)zapproved(dot)com
See Also:
[Via Legal / Law]