Your Client's deposition may be the most important in the case. Get expert advice on how to prepare for this deposition.
San Francisco, CA (PRWEB) April 17, 2010 -- Defending your client's deposition can be a nerve-wracking experience. At the end of the day, a weak performance or just one poor answer can sink a case. But even with stakes this high, most lawyers do not spend enough time preparing the client to testify.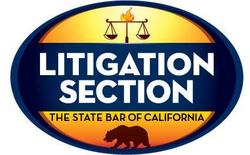 Litigation Section of the State Bar of California
Litigators of all levels will benefit from the expert advice offered in the live webinar "How To Prepare Your Client For Deposition" on April 21, 2010 from 12:00 p.m. to 1:00 p.m. This webinar is sponsored by the Litigation Section of the State Bar of California. To register now on-line, visit
How To Prepare Your Client for Deposition
The experienced panel will provide practical techniques and advice for common deposition preparation challenges.
This webinar will cover the following topics, among others:
 

How to prepare for the toughest questions.
Which documents to use in depo preparation and how to use them.
Identifying and understanding your client's weak points and how to address problems such as the talkative witness.
Issues arising from practice cross-examination and video in deposition preparation.
Preserving attorney-client privilege and work product and avoiding inadvertent waiver.
FACULTY BIOS
GREGORY A. NYLEN, GREENBERG TRAURIG LLP, SANTA MONICA
Gregory A. Nylen is a shareholder in the Litigation Department of Greenberg Traurig's Los Angeles office. His clients include the owners of significant intellectual properties, including copyrights, trademarks, and domain names, as well as businesses involved in sophisticated commercial litigation. He is the immediate past chair of the Litigation Section of the State Bar of California and past editor of the "Litigation Review," the annual publication of the Litigation Section of the California State Bar. Mr. Nylen wrote and directed the 45-minute video "How to Give A Deposition," produced by the State Bar Litigation Section.
DORIS CHENG, WALKUP, MELODIA, KELLY & SCHOENBERGER LLP, SAN FRANCISCO
Doris Cheng is a partner with Walkup, Melodia, Kelly & Schoenberger, a preeminent plaintiffs' firm in San Francisco. Her areas of concentration include wrongful death, catastrophic injury, government liability, medical negligence, premises liability, sexual molestation and vehicular negligence. She has tried multiple cases to verdict throughout Northern California and obtained multi-million dollar verdicts and settlements on behalf of her clients. She presently serves as the Chair of the Judiciary Committee of the Bar Association of San Francisco. She is a member of the Board of Directors of the San Francisco Trial Lawyers Association, where she has chaired the Education Committee and Women's Caucus. Ms. Cheng is also active in the American Inns of Court, having served as Program Chair and Secretary-Treasurer of the USF Chapter. Ms. Cheng currently serves as the Co-Program Director for the National Institute of Trial Advocacy's San Francisco Teacher Training Program and has taught trial advocacy to practicing attorneys nationally and internationally.
MODERATOR: DAVID B. NEWDORF, NEWDORF LEGAL, SAN FRANCISCO
David Newdorf has been a civil litigator and trial lawyer in San Francisco for 15 years, working at O'Melveny & Myers LLP, the San Francisco City Attorney's Office and most recently, his own small firm. He has mentored and trained numerous attorneys in litigation and trial techniques. He has also authored numerous articles on deposition skills, including: "The Top 10 Killer Deposition Questions" and "How To Prepare Your Client For Deposition." He is currently a member of the Executive Committee of the Litigation Section of the State Bar of California.
# # #

See Also:
[Via Legal / Law]