Learn how to "economy proof" your company by using the principles of 21st century leadership. James Strock's latest book, "Serve to Lead" offers actionable strategies to give and get more from employees -- as well as customers -- with integrity and excellence.
Scottsdale, AZ (PRWEB) April 29, 2010 -- The first decade of the 21st century has been marked by historic lapses in leadership. From Wall Street to Washington, from the corporations to the clergy, we've been let down by what Harvard Business School professor Bill George aptly calls "sub-prime leadership."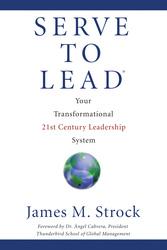 "Fortunately, using the tools of the Information Revolution, there are more ways more people can serve—and lead—than ever before," says James Strock, author of Serve to Lead.
In his latest book, Strock outlines the new world of 21st century leadership. Based on extensive research, interviews and personal experience, he makes the case for a new kind of leadership through service. For the first time, everyone can lead because everyone can serve.
Serve to Lead provides the tools for anyone, in any sector, to achieve success in this new environment. Chapters are devoted to core competencies—from customer service, to management, to general and persuasive communications. The final chapter includes an eight-week program to make your own life a masterpiece of service.
About the author
James Strock is a recognized authority and renowned speaker on leadership. Strock serves clients worldwide, including Fortune 100 companies, professional services firms, not-for-profit organizations, government agencies and the military.
He also served as California's founding Secretary for Environmental Protection, the chief law enforcement officer of the U.S. EPA, and general counsel of the U.S. Office of Personnel Management.
Strock is the author of "Theodore Roosevelt on Leadership" and "Reagan on Leadership." He's been widely quoted by the media, including The New York Times, The Wall Street Journal, USA Today and CNN.
"A really great book." — LEO HINDERY, JR. Managing Partner, InterMedia Partners; former CEO, Tele-Communications Inc., AT&T Broadband
"Serve to Lead is a book of far-ranging insight, as much about life as it is about business. It is concise, thoughtful and—perhaps most importantly—useful." — FRANK BLAKE, CEO, The Home Depot, Inc.
"'Who Are You Serving?' is the question at the heart of James Strock's Serve to Lead, and it is the question that will change your entire vision of how you lead." — HUGH HEWITT, broadcast journalist
"Serve to Lead is the essential guidebook for 21st century leadership….On a personal level, this book has changed my life; I urge men and women who aspire to make a difference in the world to let it change theirs as well." — MARTI BARLETTA, author of "Marketing to Women" and "Prime Time Women"
"Serve to Lead is one of the few business books I've read that offers a truly democratic vision of leadership--a vision that can help leaders of every kind better serve their colleagues, their clients, and their community. Pick up a copy now and use Strock's insights to turn the raw material of your life into a masterpiece of service." — DANIEL H. PINK, author of "A Whole New Mind" and "Drive"
If you only read one book on leadership read Serve to Lead! If you only read one more book on leadership make it this book. It is inspiring, motivational, educational and actionable. Everyone from business leaders to students will and it compelling, engaging and life-changing." — DOUG DUCEY, Chairman, iMemories, Former CEO & Chairman, Cold Stone Creamery, Inc.
See Also:
[Via Legal / Law]