Sector Logics Data Recovery announces availability of their secure data deletion service for both businesses and home users.
Denver, CO (PRWEB) March 24, 2010 -- Today, Sector Logics Data Recovery (http://www.sectorlogics.com) announced the availability of their Secure Data Deletion service.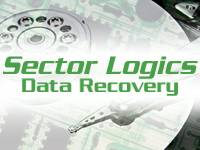 Sector Logics Data Recovery
"We are pleased to be able to offer this service to our clients," said Gary Johnson, President of Sector Logics. "Many people have been asking what they should do with hard drives from old computers before they dispose of them, and our Secure Data Deletion service was specifically developed to provide a solution."
The Secure Data Deletion service is designed to allow data to be erased from digital media in a manner that renders the data unrecoverable by conventional means. The protocol was developed using standards set by the U.S. Department of Defense (DOD) and the Computer Security Division of the Information Technology Laboratory at the National Institute of Standards and Technology (NIST).
"Making sure your personal or business data is secure is increasingly important," said Peter Eaton, Sector Logics' Director of Technology. "Identity theft and computer hacking are constantly in the news, and offering this service allows us to help our clients ensure that their critical data, whether personal information or corporate documents, are not recoverable from hard drives they no longer need."
The Secure Data Deletion service can be used on any form of digital media, including both internal and external hard drives, USB thumb drives, digital camera cards, and even tape. Once the Secure Data Deletion process is complete clients are given documentation detailing the media erased and are then free to reuse, sell, or recycle the media as they see fit. Volume discounts are available for corporate clients who have large numbers of hard drives or who wish to set up an ongoing service contract.
About Sector Logics Data Recovery
Sector Logics Data Recovery is a privately held company providing data recovery services to consumers and business clients worldwide. Specializing in data recovery from all forms of digital media, Sector Logics' unique expertise and technology innovations enable the recovery of data with greater speed and improved quality for their customers. Sector Logics performs data recovery from hard drives, RAID arrays, camera cards, USB/Flash drives, cell phones and digital music players. The company's clients include a wide range of industries, including oil & gas, food services, transportation, healthcare, and various government agencies. For more information, visit www.sectorlogics.com.
See Also:
[Via Legal / Law]
viagra pharmacy online | buy kamagra tablets | cialis super active+ 20mg pills