Award winning Off the Beaten Path Tours voted BEST small group tours in France for active travelers by Conde Nast Traveler, Forbes Traveler, CNN Traveller, The New York Times and Travel & Leisure!
Seven Valleys, PA (PRWEB) March 24, 2010 -- Come join Off the Beaten Path for an unparalleled journey traveling along the back roads of the beautiful countryside of Provence, France. During this 6-day/5-night tour, witness vibrantly colored landscapes of lavender, sunflower and poppy fields. Explore historical perched villages sprinkled across the Luberon hills. Savor vegetable rich, Italian influenced cuisine. Prepare recipes of traditional Provencal cuisine with local celebrity master chefs. Shop at the best outdoor markets of Provence where you'll learn interesting pointers about buying authentic, local products and crafts. Walk the calanques (fjords) along the Mediterranean Sea (or non-walkers can opt to join a viewing excursion by boat).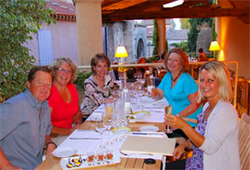 Gourmet & Bistro Dining Provence Style
Participate in a second optional walk through vineyards and olive orchards between St. Remy and Les Baux during an afternoon leisure outing or opt to shop and pursue individual interests in St. Remy. Visit our favorite Artisan "Savonnerie" (artisan Provence Soap Maker's workshop) and Artisan Olive Oil mill. Indulge in tasting regional wines and freshly made artisan cheeses throughout the trip. And to top off each day, enjoy the tranquility of our beautiful, full service, luxury hotel nestled in the historic village town of St. Remy-de-Provence.
The Details & 2010 Tour Dates:
PROVENCE Tours - 6 Days/5 Nights
• Tour Price - US$3,398 per person land only, double/twin occupancy
• Solo travelers add single supplement: US$424
• Named one of the "Best of Provence," Andrew Harper Hideaway Report
• Our Provence itinerary activities, restaurants & hotel are also featured on the "Editor's Pick" list by Conde Nast Traveler
Below are the Tour Dates that still have a few spaces left available. All other dates already sold out.
 

June 5-10 - 4 Spaces available
June 19-24 - 4 Spaces available
July 3-8 - 4 Spaces available
July 25-30 - 4 Spaces available
September 4-9 - 4 Spaces available
October 4-9 - 2 Spaces available
About Off the Beaten Path, LLC
Unrivaled expertise within France set Off the Beaten Path, LLC (OTBP) a part from non-France based and multi-destination tour companies. OTBP is American owned and operated. And for over 15 years, the company has been offering engaging trips in France that offer the best and most inspiring itineraries throughout the French countryside. France is OTBP's sole focus and our specialty! Travelers and publications alike rate Off the Beaten Path Tours the BEST active, small group tours in France. Whether you're a seasoned small group tour traveler or new to the small group tour scene, Off the Beaten Path tours offer fun and enriching local French experiences and activities for everyone, experiences and activities that are not available to the public or other tour companies.
Read More About Off the Beaten Path, LLC
Download our Provence Tour Brochure (Adobe pdf)
See Also:
[Via Legal / Law]
medications for anxiety | buy kamagra online | cialis super active+ 20mg pills