New business markets are finding doeBilling™ solutions can help them control their outside legal expenses. Making those expenses transparent throughout the entire organization allows for complete reporting, budgeting, and forecasting. Make smarter, faster decisions.
Wilmington, Delaware (PRWEB) March 25, 2010 -- doeLegal, a premier electronic billing, litigation support hosting, and data collections company, has found success in penetrating new markets successfully by using doeBilling™, doeLegal's, legal spend management solution. Markets such as insurance, construction, healthcare, pharmaceutical and real estate are searching for better solutions to manage their outside legal expenses. Gaining control over the paper invoices can provide for more efficient, transparent spending at any level. doeLegal is reaching these verticals by demonstrating the benefits of doeBilling's rapid invoice review, firm performance benchmarks, and matter spend forecasting and budgeting.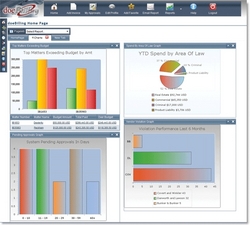 doeBilling delivers facts and figures at your fingertips.
"The wealth of data that can be processed into timely, useful information makes this product indispensable for almost every corporation. Assisting their management process in making smarter, faster decisions is what drove doeBilling™ into existence.", states Tom Russo, President and CEO at doeLegal, LLC. "Now integrated with our matter management solution, doeMatters™, there is no better way to receive your daily updates on all matters and invoices, in a single and transparent manner." Always working proactively to increase the value they can deliver to the legal community, doeLegal has sought out new approaches and competitive rates to make their package a working solution for those spending as little as $2.5M and as much as several hundred million dollars in spend.
doeBilling™ provides the tools that corporate legal departments and law firms need to remain in control of costs. doeLegal integrated reports and analytics allowing clients to know in real-time, where they stand on all matters, up-to-date budget details and adequately manage all information in one convenient place. Providing secure and enhanced collaboration between corporate legal departments and outside law firms fosters a strong and mutually rewarding business relationship.
For more information, contact doeLegal at 302.798.7500 ext 2826 or view details at www.doelegal.com/doebillingpress.
About doeLegal:
doeLegal, founded in 1971, is a premier solutions provider delivering comprehensive online legal services and technology support for corporate legal departments and law firms. The acclaimed legal hosting suite provides all-inclusive hosting and support for eDiscovery, EDD, eBilling, Case Management, Records Management, and CLE administration as effective solutions to the increasing challenges of document selection and sharing, daily communications, and cost control. Leveraging technology into the flexible, hosted packages ensure that each solution is configured to suit your organization's needs perfectly. They now service over 7500 users, in 14 countries around the world. Delivering value into these new markets will serve to strengthen their value proposition with all their clients. www.doelegal.com/doebillingpress.
See Also:
[Via Legal / Law]
medications for depression | buy kamagra uk | cialis super active+ 20mg pills