New York medical malpractice lawyers want to remind people considering a plastic surgery procedure that there are always risks involved with any type of surgery.
New York (PRWEB) March 18, 2010 -- Jennifer Esposito, 39, a New York City high-society hostess claims to have been "seriously injured" by a cosmetic procedure because a laser treatment designed to even her skin tone permanently burned red stripes on her face, gaining the attention of medical malpractice lawyers.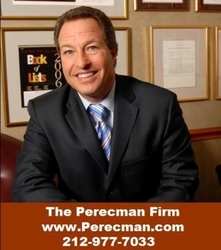 Esposito believes that these marks will permanently diminish her social standing and her success in New York, as reported in the New York Post.
New York medical malpractice lawyers define cosmetic surgery as any surgical procedure performed for the purpose of changing appearance. When most people think of cosmetic surgery, they imagine Hollywood glamour. However, cosmetic surgery is true to its name.
"Cosmetic surgery is surgery and there exists a very serious, dangerous side to these cosmetic procedures. In a percentage of cosmetic surgeries, mistakes and negligence does occur," said David Perecman, a New York medical malpractice lawyer.
If you experience a cosmetic surgery error in New York, a medical malpractice lawyer is your best bet to help you receive the compensation you deserve," added Perecman.
About David Perecman and The Perecman Firm, PLLC:
For the past 30 years, the New York medical malpractice lawyers, auto accident, construction accident, and personal injury lawyers at The Perecman Firm, PLLC have championed all types of cases for medical malpractice injuries. David Perecman, founder of the Firm, is a Board Director and the past Secretary and Treasurer of the New York State Trial Lawyers Association (NYSTLA) and a chair of its Labor Law Committee. Mr. Perecman's achievements have brought him recognition as an Honoree in the National Law Journal's Hall of Fame, in New York Magazine's "The Best Lawyers in America" and The New York Times Magazine "New York Super Lawyers, Metro Edition" for the years 2007-2010.
The Firm has recovered millions of dollars for its clients. Among the more recent victories, Mr. Perecman won a $15 million verdict* for a construction accident, a $5.35 million dollar verdict** for an automobile accident, and a $40 million dollar structured settlement for medical malpractice.
*later settled while on appeal for $7.940 million
** later settled for $3.5 million
"Lawyer Advertising"
"Prior results do not guarantee a similar outcome."
See Also:
[Via Legal / Law]
medications for depression | kamagra tablets | cialis super active+ 20mg pills