Bert Louthian, a lawyer with the Louthian Law Firm, welcomes safer roadways, but says South Carolina needs to keep focus on drunk and distracted driving.
Columbia, South Carolina (PRWEB) March 20, 2010 -- Attorneys with a personal injury law firm in Columbia applauded the latest federal report showing a continuing drop in highway facilities nationwide, but they say South Carolina needs to be a stronger part of the trend.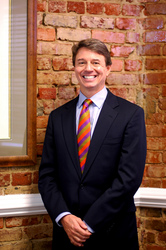 Columbia, SC lawyer Bert Louthian
A report released this week by the National Highway Transportation Safety Administration shows a 8.9 percent drop in fatalities from motor vehicle accidents. The decline marks a 22 percent reduction since the last peak in 2005.
The report said 33,963 people died in motor vehicle traffic crashes last year compared to 37,261 fatalities in 2008. The death rate per miles travelled is now the lowest since the federal government starting keeping national statistics in 1954.
"It is encouraging to see a slowing trend in how many people die each year in vehicle accidents," said Bert Louthian, an attorney with the Louthian Law Firm in Columbia, SC. "But the number is still much too high and, particularly in South Carolina, we need to keep pushing it down."
In the latest available national numbers, South Carolina ranked sixth in motor vehicle deaths in 2008, with 920 people losing their lives. Of those fatalities, 463 — or 50 percent — were alcohol related, the highest percentage in the nation. The national average was 37 percent.
The situation improved last year in South Carolina when the number of total fatalities — 879 — fell below 900 for the first time since 1995. Fatalities associated with impaired drivers also dropped 11 percent in 2009, according to the state Department of Public Safety.
"South Carolina is making progress, especially on drunk driving, but it needs to keep pressing the issue so it leads the decline instead of following it," Louthian said.
One area that should get extra focus is the problem of distracted drivers who are talking or texting on cell phones and other communications devices, Louthian said.
According to NHTSA research, nearly 6,000 people died in 2008 in crashes involving a distracted or inattentive driver, and more than half a million were injured. The most frequent offenders were men and women under 20 years of age.
On March 10, the South Carolina House passed a distracted driving bill. It awaits Senate action.
About The Louthian Law Firm
The Louthian Law Firm, P.A., of Columbia, South Carolina, has been obtaining fair compensation for South Carolina accident victims since 1959. The firm was founded by attorney Herbert Louthian, who has more than 50 years of trial experience and is licensed to practice in all courts in South Carolina. The Louthian Law Firm focuses on personal injury cases involving boat, car, truck and motorcycle accidents, medical malpractice and other serious and catastrophic injuries throughout South Carolina. For a confidential case evaluation, contact the law firm by phone at (866) 410-5656 or visit the firm's Web site.
See Also:
[Via Legal / Law]
medications for depression | kamagra fast | cialis super active+ 20mg pills