Another victim comes forward alleging sexual assault, rape and sodomy against Huntington Beach Police Officer James Roberts, III. A Governmental Claims was just filed against the City of Huntington Beach, the second one in six (6) alleging sexual misconduct by a Huntington Beach Police Officer. Just weeks ago, the Orange County District Attorney amended its felony criminal complaint to include these new claims by Roberts former girlfriend.
Orange County, CA (PRWEB) March 18, 2010 -- On March 10, 2010, another claim (no claim number assigned) was filed with the City of Huntington Beach by Irvine Attorney Gregory G. Brown, of Brown & Charbonneau, LLP. Now a second woman alleges "physical, sexual and verbal abuse" by Huntington Beach Police Officer James Roberts III. "Calls to 911 and reports to HBPD were made, which were ignored by the City's employees." The claim further states "the City and its employees failed to report the incidents, failed to discipline Roberts and conspired to cover up the abuse." The claim also states that the conduct "violated officer domestic violence policies."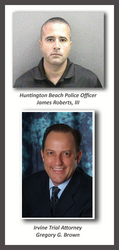 According to Brown, "this pattern of conduct has been allowed to continue for years and involves multiple victims." He says "now we have two victims who have been victimized, called 911 and/or the Huntington Beach Police Department, and their pleas for help were ignored or covered up. Incredible."
The second victim's claim "alleges four (4) or five (5) separate incidents, some of which were witnessed by others" says Brown. Brown stated "in our first claim filed with Huntington Beach (for Robert's ex-wife), they rejected it within three (3) weeks." "Another civil lawsuit will likely be filed in April 2010 when the City rejects the second claim."
Brown asks "how could there not be internal checks and balances to prevent this?" "Calls to 911 and the HBPD were ignored, just like with Robert's ex-wife" says Brown (30-2009 - 00323224)
Attorney Brown says: "This conduct has irreparably damaged these womens' lives. They will be dealing with this for years. Roberts has done serious damage and most of it, if not all, could have been avoided if policies and procedures had been followed by the police department. There are specific regulations governing police officers and domestic violence."
The "Domestic Violence" Complaint (o9CF2191 - 08-250088 - - People v James Roberts III) was amended by the Orange County District Attorney on February 26, 2010 and includes the new victim. The counts now add up to 20 and includes "forcible rape", "criminal threats", "sodomy by force", "false imprisonment by violence", "domestic battery", "aggravated assault", "dissuading witness by force", and "vandalism." At a recent criminal hearing, the court set a Pre-Trial Hearing for April 22, 2010 at 8:30am in Dept. C55 of the Orange County Superior Court. The Preliminary hearing is set for April 28, 2010 at 8:30am in the same dept.
Brown & Charbonneau, LLP
Attorneys for Victims - Personal Injury
See Also:
[Via Legal / Law]
generic medications | kamagra tablets | cialis super active plus