The International Society of Primerus Law Firms received 46 new applications for membership in 2009.
Grand Rapids, MI (PRWEB) January 5, 2010 -- Despite the struggling economic climate, the International Society of Primerus Law Firms (Primerus) is pleased to announce unprecedented growth for 2009. Primerus received 46 new applications for membership during the calendar year of 2009.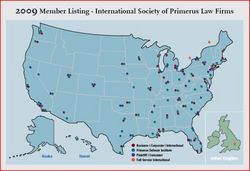 Primerus Member Listing
Primerus is an international alliance of small and medium sized, top-rated, independent firms. With approximately 140 member law firms located in the U.S., Canada, Mexico and the U.K.,
Primerus firms
provide clients with responsive, high quality, partner-level service at reasonable fees, much less than what large law firms charge their clients. All Primerus law firms are: AV- rated using the Martindale-Hubbell peer review service; screened for excellence; audited annually for continued quality; and committed to excellence in six key areas--integrity, reasonable fees, continuing education, civility, community service and excellent work product.
According to an article which appeared in the October 2009 issue of Corporate INTL entitled, Primerus: Trusted Legal Advisors, "With over 1,700 lawyers, Primerus is the size of some of the world's largest law firms. Every year, more and more law firms are attracted to the brand we offer – high quality legal services at reasonable fees." Founder and President John C. "Jack" Buchanan adds, "Given the economic changes of recent years, it has never been more important for corporations around the world to develop trusted relationships with law firms that offer significant value through high quality legal services at reasonable fees … companies in need of legal services can call upon any Primerus lawyer with complete confidence that he or she is reasonably priced, highly competent and most importantly, worthy of your implicit trust."
Reinforcing this statement, Susan Cook, Associate General Counsel for TAMKO Building Products, Inc. adds, "We were so impressed with the prompt service, work product, reasonable fees and results obtained by Primerus firms that we changed our internal process for retaining outside counsel. Instead of turning to Martindale-Hubbell or by making phone calls in hopes of obtaining at least one referral, I now immediately consult my Primerus directory."
For more information about Primerus or to find a Primerus firm, please contact Ruth Martin (rmartin(at)primerus(dot)com), Senior Vice President and General Counsel, at 800-968-2211 or visit the International Society of Primerus Law Firms.
###

See Also:
[Via Legal / Law]