Compliguard Protect Successfully Deployed at the Firm; Protecting Millions of Documents
New York, NY and Washington, DC (PRWEB) August 25, 2009 -- The Frayman Group, a leading provider of innovative risk management software and services for law firms, today announced the successful implementation of an information barriers and ethical walls system at Cadwalader, Wickersham & Taft LLP, a prominent international law firm of more than 500 attorneys in five offices serving premier financial institutions, corporations and government entities. The system is designed to automate, create and monitor screens to protect sensitive information at the firm.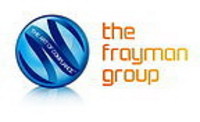 The Frayman Group
Compliguard Protect is a next generation information barriers and ethical walls application, designed from the ground up to effectively meet and exceed today's complex requirements for protecting sensitive information. Built on the Microsoft technology stack, Compliguard Protect delivers protection far beyond the boundaries of the document management repositories, securing all information across all critical business systems including records management, CRM, time & billing, new business inception, time entry and Microsoft SharePoint.
Cadwalader selected The Frayman Group's Compliguard Protect to meet the firm's stringent business requirements and because it is an IT-friendly .NET application, with a Web-based zero desktop footprint for both users and administrators of the system, providing both centralized and distributed deployment options.
Cadwalader is now using Compliguard Protect to secure critical business systems with millions of business documents across all of their offices. Cadwalader's IT and risk management teams worked closely with The Frayman Group risk management experts to help deploy the system, and create and activate screens for ethical walls.
"The system performs well beyond our expectations in terms of speed, reliability, efficiency and ease of use," said John Kruse, Director of Records & Conflicts Administration at Cadwalader. "This
has been a win-win for both IT and business users at the firm, as the system allowed us to go live with no glitches and no disruption of our day to day business activities."
"We are very pleased to see Cadwalader reap the benefits of Compliguard Protect," said Serge Danilov, VP of Product Management at The Frayman Group. "The flexibility of the system allowed us to easily meet the business and IT requirements of the firm, allowing us to deploy on time and within budget guidelines."
About The Frayman Group
The Frayman Group, a leading provider of software and services for law firms, combines industry expertise with innovative technology to help customers automate business processes, mitigate risk, manage compliance and improve competitiveness. The Frayman Group brings 18 years of experience supporting 150,000 lawyers in over 270 law firms worldwide. For more information, visit www.fraymangroup.com.
See Also:
[Via Legal / Law]