BoxTone(R), the expert in mobile user management, introduced today a packaged offering of BlackBerry platform management software and services designed specifically for the Managed Service Provider (MSP) and messaging hosting community.
Columbia, Maryland (PRWEB) June 30, 2009 -- BoxTone(R), the expert in mobile user management, introduced today a packaged offering of BlackBerry platform management software and services designed specifically for the Managed Service Provider (MSP) and messaging hosting community.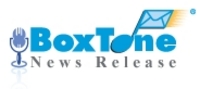 BoxTone Rolls Out Enhanced BlackBerry Platform Management Offering for Managed Service Providers (MSPs)
Said Alan Snyder, BoxTone's CEO, "BoxTone software is already preferred by many of the world's best-known managed service providers - including EDS, an HP Company, LiveOffice, Perot Systems and Raiffeisen Informatik - to manage and monitor their clients' BlackBerry platforms. Thanks to best practices gained supporting thousands of smartphones at managed accounts, BoxTone is delighted to offer a special bundle of software and services to help MSPs manage mobility costs and generate more revenue per mobile user. In fact, our MSP partners already use BoxTone to manage more than 60,000 smartphones, with many more on the way."
MSPs and messaging hosters are looking to generate more revenue from existing BlackBerry service engagements through a combination of new offerings coupled with a lower cost to serve. And they are seeking the competitive advantage that can win new engagements. In fact, Forrester Research recently stated: "a perfect storm is brewing -- technological change, the technology investment cycle, and difficult economics are combining forces to push some types of managed services over the chasm." (Market Overview: The Broad Opportunities In Managed Services, Forrester Research, November, 2008).
As more MSPs look to tap fast-growing mobile opportunities by providing enterprises with BlackBerry platform support - from offering fully outsourced Level 1 mobility help desk and Level 2/3 operations support to premiums services like mobile lifecycle management - the overall opportunity has grown dramatically. But margins for the service have also come under pressure. The BoxTone MSP Bundle offers important new ways for MSPs to expand market opportunity and generate incremental revenue while lowering the actual cost to serve.
The Bundle starts with BoxTone's Incident, Problem and Service Desk Management modules, proven at more than 200 enterprises and agencies to reduce mobile user incidents by 30%-40%; and slash escalations and mean-time-to-repair by 70-80%.
Fewer calls resolved faster (typically in 3 minutes or less) by lower cost help desk staff can mean significant bottom line savings for an MSP, especially at fixed-price, longer-term support engagements. And with fewer staff needed to provide the same or even superior levels of support, personnel can be reallocated to revenue-generating assignments elsewhere.
To help MSPs generate more top-line revenue per mobile user, the BoxTone MSP Bundle includes software and services designed to provide incremental value outside the scope of existing engagements. MSPs can use the Bundle to create a special white-glove Mobile Executive Support service, which can monitor in real-time the actual experiences of VIP mobile users and alert a support team to even the most minor of service disruptions or issues.
BoxTone's Asset, Expense and Compliance Management module can also enable MSPs to craft new offerings such as Mobile Lifecycle Management, Mobile Expense Strategy and Mobile Compliance Strategy.
The Bundle comes with training and support services, to ensure successful deployment and use of BoxTone software modules, as well as incremental BlackBerry platform optimization software and services for resale.
"This packaged MSP offering for BlackBerry management reflects BoxTone's deep commitment to the Managed Service Provider community," added Snyder. "MSPs can trust BoxTone to scale like no other software, supporting up to 50,000 BlackBerry smartphones from a single instance. And our light-weight, agentless approach makes supporting clients across multiple geographies, databases, domains and mail platforms far easier."
The BoxTone MSP Bundle is available today, and includes multiple pricing options to match the method preferred by the MSP when it bills a client for BlackBerry platform support. To learn more go to www.boxtone.com/MSP.
About BoxTone
BoxTone software is trusted by more than 200 of the world's leading enterprises and government agencies, including 65 in the Global 2000, to manage, monitor and support their BlackBerry platforms. Built on patented SmartMP(TM) technology and conforming to industry standard ITIL best practices, BoxTone's modular platform and role-specific consoles enable IT and services organizations to proactively improve mobile performance, reduce support costs and accommodate rapid device growth, all while guaranteeing the high quality of service that mobile users demand. Learn more from the expert in mobile user management at www.boxtone.com, or call 1 410-910-3344.
BoxTone and the BoxTone logo are trademarks of BoxTone, Inc. The BlackBerry and RIM families of related marks, images and symbols are the exclusive properties and trademarks of Research In Motion Limited. All other product or company names mentioned are used for identification purposes only and may be trademarks of their respective owners.
See Also:
[Via Legal / Law]