Organizations Need to Take Cost Savings Seriously
Silver Spring, MD (Vocus/PRWEB ) March 31, 2009 -- In its annual State of the ECM Industry research report, AIIM has found that managing electronic office documents is still a challenge for 47% of organizations, and that modern business communication channels—instant messages, text messages, blogs and wikis—are uncontrolled and off the corporate radar for 75% of businesses. However, AIIM's research also found that whereas two years ago compliance was the main driver for bringing this content into a controlled and searchable environment, cost savings and efficiency are now the main motivating factors.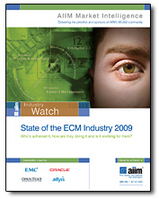 State of the ECM Industry Research
According to the AIIM survey, for those that have invested in ECM or document and records management solutions, hard dollar savings have on the whole turned out on plan, and soft dollar benefits have exceeded expectations. Compared to other significant technology investments, ECM implementations have generally produced better returns.
John Mancini, President of AIIM, comments, "For many organizations, poorly managed and out of control information represents a huge potential source of bottom line savings in this tight economy — if only organizations would just take this cost saving seriously. Controlled content can be fed into business processes to speed them up, cut down travel via project collaboration, and form a knowledge base for the business. Uncontrolled content represents a lost opportunity -– and a major compliance risk."
The survey also found that spending on Business Process Management (BPM) and Workflow was likely to grow strongly in 2009, with Enterprise Search, Email Management, Document Management and Records Management all set to show positive growth.
The full report in the AIIM Industry Watch series, "State of the ECM Industry – who's achieved it, how are they doing it and is it working for them?" can be downloaded free at www.aiim.org/stateofecm2009 and is supported by EMC, Oracle, Open Text, and Allyis.
About AIIM
AIIM (www.aiim.org) is the community that provides education, research, and best practices to help organizations find, control, and optimize their information. The AIIM community has grown to over 65,000 professionals from all industries and government, in over 150 unique countries, and within all levels of management including senior executives, line-of-business, and IT.
For over 60 years, AIIM has been the leading non-profit organization focused on helping users to understand the challenges associated with managing documents, content, records, and business processes. Today, AIIM is international in scope, independent, implementation-focused, and, as the representative of the entire enterprise content management (ECM) industry - including users, suppliers, and the channel - acts as the industry's intermediary.
Subscribe to AIIM RSS feeds at http://www.aiim.org/feeds
Subscribe to industry press release feeds at http://www.aiim.org/ResourceCenter/RSSFeed.aspx?Type=PRESSRELEASES
About the Sponsors
About EMC
The EMC Documentum family of enterprise content management solutions provides a comprehensive, fully-unified software platform to manage and leverage content in a cost-effective, controlled manner, providing secured access and re-use across the enterprise. It combines a unified platform with a strong compliance infrastructure to support key business needs. www.software.emc.com/documentum
About Oracle Content Management
Oracle Content Management is the industry's most unified enterprise content management platform that enables customers to leverage award-winning document management, web content management, digital asset management and records management functionality to build your business applications. Oracle Content Management enables you to easily integrate your content into everyday business processes and applications. www.oracle.com/goto/ecm
About Open Text
With 17 years experience, Open Text stands unmatched in its understanding of ECM. Our comprehensive Open Text ECM Suite is a reflection of our ECM expertise, enabling you to control the risk and cost of content, foster process agility and innovation, and empower your people to make better decisions while providing them with a compelling user experience. www.opentext.com
About Allyis
Allyis develops and supports technologies that help businesses operate, share information and communicate more effectively. We specialize in building next generation solutions that drive collaboration, foster knowledge sharing, streamline processes, surface businesses insights and lead to more informed, agile decision making and business operations. www.allyis.com
For more information, contact:
Beth Mayhew
Director
301.755.2681
bmayhew (at) aiim.org
Doug Miles
Director, Market Intelligence
+44.1905.727600
dmiles (at) aiim.org
See Also:
[Via Legal / Law]